Certified by NDGAA
Your groomer has been certified by the National Dog Groomers Association of America, Inc. An organization dedicated to high standards that meet your own. Founded in 1969, NDGAA has certified groomers throughout the United States, Canada, England, France, Holland, New Zealand, Scotland & Singapore. These groomers share a commitment to the humane care of your pet, grooming excellance, fair business practices and public health & safety. When you do business with an NDGAA Certified Groomer, you can expect superior quality and service.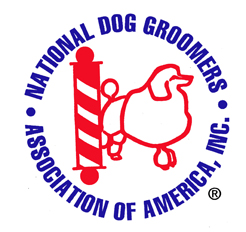 What NDGAA Certification Means
In order to become a NDGAA certified groomer, the groomer must meet NDGAA's high standards of grooming excellance by undergoing a series of strenuous tests designed to evaluate their grooming skills and expertise.
NDGAA certified groomers must also agree to abide by a strict Code of Ethics governing business, customer relations and advertising practices.
NDGAA certified groomers are leaders in their field, able to serve you with their expertise and well developed knowledge.
What NDGAA means to you…
Selecting a NDGAA certified groomer means selecting quality you can trust. You will benefit from NDGAA's continued efforts to improve the pet grooming industry standards and services.
It makes good sense to select a NDGAA Certified Groomer for your pets care. It assures you that your pet will receive loving treatment and quality grooming by a Professional who is reputable and committed to meeting your high standards.
Code of Ethics
I, as a Certified Dog Groomer in the pet industry, promise to accept my responsibility when caring for all pets. I shall enhance their beauty through proper grooming skills to help in the creation and style best suited the individual pet and its owners, to continuously educate myself and my patrons in the proper care and welfare of their pets. I will not discriminate against any person, to set an example of good will and integrity, show affectionate understanding and gentleness to all and always perform my duties in a humane manner.